RISQUE POLITICAL SCULPTURES
Sculptor Daniel Edwards has created a bare-chested bust of aspiring first lady, Michelle Obama, that has raised some eyebrows.
The bare-shouldered sculpture, called Michelle Obama's Makeover for America, highlights Obama's ethnic African roots while casting her as a US patriot with an American flag etched on her upper right chest.
UNSETTLING CHILD SCULPTURES
Harma Heikens definitely knows how to let out a few demons. Her life-sized sculptures routinely feature children covered in dirt and half naked. The children are often featured with money and food.
Heikens sends strong messages through her art, foreshadowing our future by using sculptured children. Sexual exploitation, economic abuse and advertising are all deeply embedded themes and statements that make themselves present through these disturbing artworks.
Innocence is certainly at a loss in these creepy Heiken creations. Check it out in the above gallery (and special thanks to our very own Cowbag for this awesome find)!
The Michelle Obama bust is scheduled to be unveiled at the Leo Kesting Gallery in New York City on October 1st.

ive been swimming with am jams and deedee.-my neices.

:)



im getting paranoid!
ive had a mad couple of days with the girls getting up at silly o clock in the morning. such as half 6.

im now living in birmingham for the forseeable future*.
i have to pick up my neice from nursery in a bit and organise her lunch.
and also i have a work focus interview with the jsa.
so much stuff to do and my mind just isnt functioning today at all.
ive got a wisdom tooth coming through and it hurts. so im constantly dosed up on paracetomol.
booo :( and im skint i have one pound 30 pence to my name.
my bags falling apart so ive got some sewing to do, aswell.
and ive got to phone kimmy.
arghhh to many jobs such little time.
l8ers.
x
if i dont drink some more coffee soon.

man it was such an effort to get to the sainsburys which is only down the road, but it was such hot and sticky weather that everything turned into massive effort.
I slept real badly and didnt eat real good yesterday too.

So when i returned from the shop i had; icing sugar, self raising flour, marsh mallows white chocolate and dark. and bread and milk so i can have tea and toast, although really all i desperately need is a nice cup of tea.
but dad said to get some bread anyway. so i did.
i also really really need a bath. or shower just to wake me up a bit.

oh and quick(ish) Q, when making fairy cakes with chocolate chunks in them how do you prevent them sinking to the bottom of the cakes?
XXX
I have been douing some shopping as the ma and pa are out,collecting there new car and im home alonewith no bread or milk.
Current Mood:

busy

so i didnt get to college and i feel like time is slipping through my finger tips.
BUT i got an unconditional place at uni (which has to be good news)
im so crabby today, i need a ciggerette i havent smoked all day i just need to find my handbag.
i also want to find some fake tan for my legs as my shoulders are quite brown. and i look kindof odd.

mmmm
so last night i went to buy wallpaper but the one that i wanted i didnt have enough money for, so instead i bought mlky bar flavour icecream and decided to go to homebase today but this morning so i can go to college.but as per nothing i ever plan works out mam wanted to look for a new car and id slept in by mistake, and her mate had come round this morning having had an argument with her husband, so she wanted to come to eastbourne,
Current Mood:

frustrated

Current Music:

blink 182

im just thanking my lucky stars atm.
i love heads will roll by the yeah yeah yeahs.
and all ive been doing since wednesday when i went for interview, is recovering cos my shoulders feel like ive been thudded but its not all it is, is were ive been carrying my stupidly awkward sized portfolio all round ldn. (not fun)

ive been listening to hp and the philosophers stone all last night and this morning. i can tell im probably going to get ratty later on though thats just the way i work.

i have so much to do.
why was i so ambitious with my planning. ahwell. when its done hopefully it will look wickdiddywick.
my necks hurting aswell.
i think i need a drink.
so
tha'sall folks !
X
i think i might have just got a place at the uni of east ldn. im a bit scared to be typing it though in case i get a letter saying it was all a huge mistake.
Current Mood:

anxious
mega rubbish, in that i woke up at 6 when my alarm wasnt set till 8 which was annoying as im not good without sleep we got up early just cos it was the primary health care nhs sponsored thing, apparantly werre finalists in some competitition which i didnt even no we had entered,
but anyway. we got up done that. kimmy picked me up cos she didnt no where it was. nor did i but i had the map book which i then left at college.
I got some wicked stuff at college for a project on addiction. and some amazing photo's that date from the late 1920's to the 1930's unfortunately none of them have names or dates so i have no idea who they are.
but yeaa.
i got a goblet wineglass thing but miniature.
and lots of other nick nacks to go in this display case that im making.
i didnt eat properly today as i was feeling all ichy in my tummy. and then i saw my mistake by the kanteen i actually cant escape him at college.
i heard that jarvis cockers doing some voices in the new Big friendly giant film which would be wicked.
im just a big kid at home and i really need to do tidying cos my upstairs has turned into a mega dumping ground.
as in im losing the plot and will to live.
i felt proper lethargic also today.
everything was such an effort.
oh and i sat in some red paint after the first years successfully covered the benches in red splodges they are so annoying. so so so bad. We have 2 weeks till we finish our course you have 2 years so fuck off and die.
so fucking irritating and also im remembering that i just left the pliers that lisa gave me from the techy bit upstairs as i was feeling so shit so much to remember and sort out.
gah!
XXX




today has been
Current Mood:

blank

i just tried out emma's cake making vegan recipe but unfortunately we didnt have any self raising flour so i used plain and filled up the fairy cake things, but the superb thing about vegan cake making food is that theres nothing that really has to be cooked for example eggs!
the mixture i used is so tasty.
thankyou emma's friend.

Recipe-
preheat oven to 180.C

200g self-raising flour
50g caster sugar
50g unrefined sugar (gives a richer taste)
100ml oil
1 teaspoon natural vanilla essence
juice of half a lemon
1/2 teaspoon bicarbonate of soda
150ml soya milk

1) Mix flour and sugar together
2) Add vanilla and mix well
3) Add oil and mix well
4) In a separate bowl add the lemon juice and bicarb to the soya milk and whisk. You will see bubbles
5) Mix the two halves and whisk well to incorporate lots of air
6) Put in baking cases and bake until golde
im in such a happy mood :]
Current Mood:

chipper
Cause it all started at 11 yesterday morning when i was on fb with annie having a chit chat.
she invited me to london for the day but as ive lost my purse and had just ordered a new bank card i didnt have any money so i couldnt really get there plus hassle with the mother.
so i suggested she came down to bexhill or sexhilll as the only true bexhilll local heroes call it (me n anniekins)
and she did we went and checked out town and the developments such as pets at home, subway, and dominoes. then we bought pegs from our old science teacher who now has a little antiques/arts shop, and went home and decorated them pictures to come, annie also bought me a beautiful umbrella broch in baby pink, which we didnt no but we went to ebob (eastbourne) today, and i bought an amazing jumper dress thing with clouds so now she says im very weather conscious in my stylings.
hah.
i bought 2 pairs of new trousers all in the sale at what would have cost 95££££ but instead cost like 40 bargainous :D
annie also gave me some earings that she diddnt wear cos she has flesh holes and a really nice bamboo style belt.
which was lovely of her. thats the broch she bought me the day before and the jumper im just a big kid really.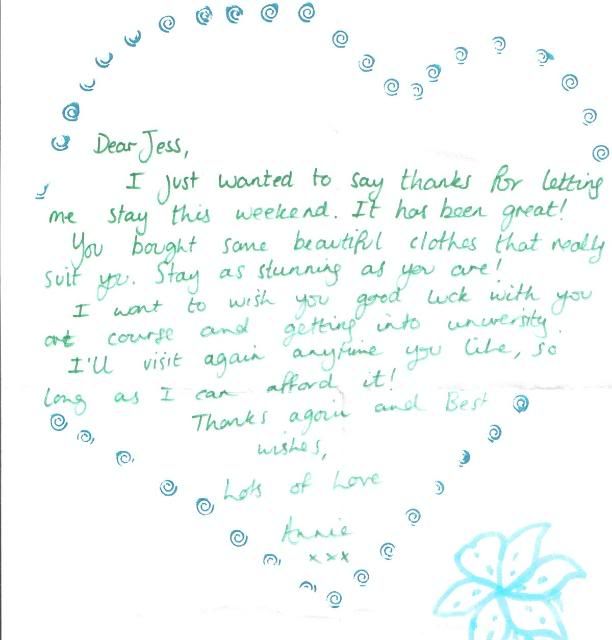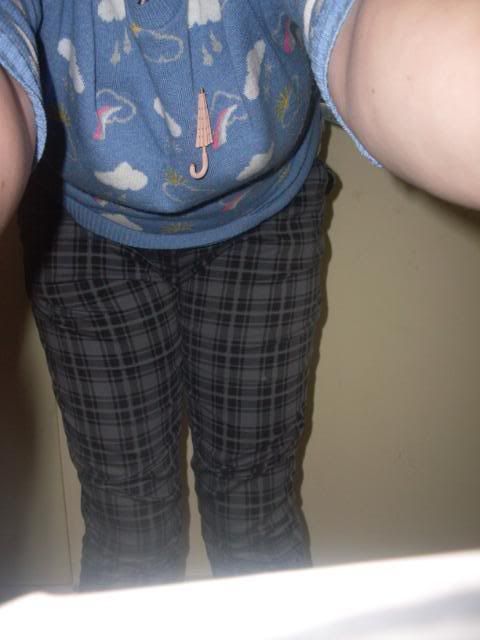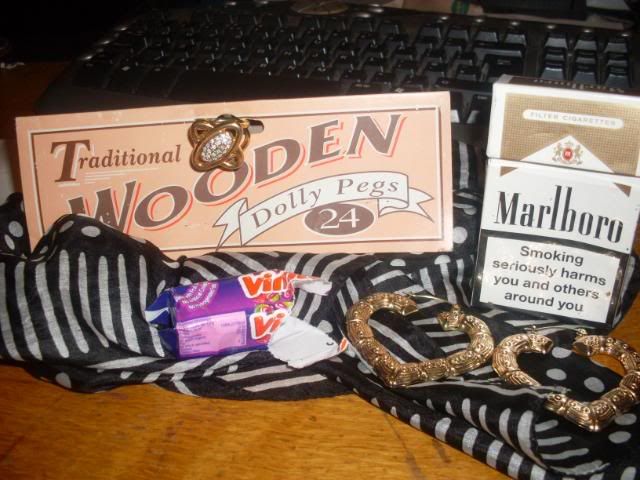 in later when i can be bothered as i have to get up early tomaraa.
one thing i am annoyed about is that i never got my brother ste's birthday pressies through the royal mails half arsed delivery service which is crappy to say the least.
anyways im shattered so beds calling also my eyes are watering from the light,
and ive been tidying up so hopefuly tomorrow i'll get it proper tidy and take photo's.
or thats the plan stan, im also gonna process photo's in the dark room at college tomorrow which should be good.
ive packed everything.
so im going to bed now
nighhhhttttt
XXX
Anne maries loveliness continues; she left me the cutest letter ever, and a beautiful ring and all these pegs that shed bought from mr hardys shop in town.
Now im starting to flag but she left me a bow tied round a peg, and then a really beautiful ring on the peg aswell, annie is magic, i love her so.
:D
i havent posted in a little while, and ive been sooo busy from what i thought was gonna be a quiet weekend of doing purely coursework turned into, getting a few bits of coursework done but not really finishing anything.
Current Mood:

anxious